A lot of times, you may find that your phone has no signal if like to explore the outdoor world. In that case, you must have a gadget that allows other people to know where you are and communicate with others when there is no cell service.
This is what our article is about. Check this new device called GoFindMe that is capable of acting as an off-grid communicator and GPS tracker.
GPS allows us to know the location of any person or object. Today smartphones or mobile phones include this feature. This requires that the device be connected to a fixed-mobile network or to a WiFi. There is also the possibility of turning your smartphone into a GPS tracker without this connection.
To be able to locate any person or group without the need for a network connection, we must go to GoFindMe. It is a device capable of achieving the location of any group without the need for an Internet connection service.
How Does GoFindMe Work?
It does not work like a pair of walkie-talkie that has an open channel, and that is usually seen on the ski slopes so that couples or groups communicate, and that their communications can be "hunted" by other skiers. With the GoFindMe you can send and receive messages, or your GPS position, to a specific receiver and vice versa.
The device connects to the smartphone via Bluetooth connection. Text messages or GPS coordinates can be written on the mobile.
The device is not submersible, but it is resistant to splashes (rain), dust, snow and bumps, the normal ones in an adventure. It is recharged by USB port. It comes with maps as standard, but with a Plus service, you get a complete topographic map package, very useful for the most extreme athlete.
Undoubtedly, this gadget is a fantastic way to be safe in remote sites, to always know our situation and to be able to communicate. The only problem is that its strength grows if the number of users grows.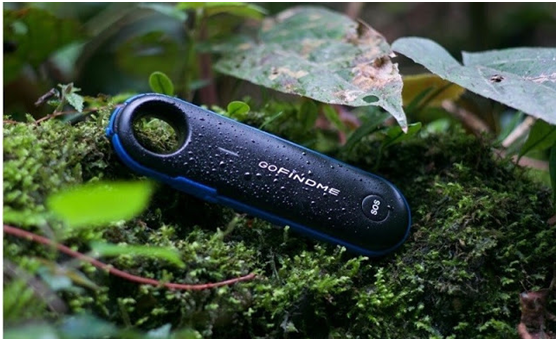 GoFindMe GPS Tracker With Mesh Network
But the great innovation of this new device is that it can multiply its communication range by building an authentic network of adventurers. Between two GoFindMe devices, the range is about 5 kilometers, but if the receiver is outside that radius, GoFindMe looks for another adventurer within its orbit that carries the device and uses it as a repeating antenna. In this way, the more skiers, mountaineers or cyclists carry the strongest and widest device the network will be and the easier it will be to send and receive messages.
GoFindMe Features
Among the features that accompany GoFindMe are the following:
Locate any person in real time, showing the exact location where you are.
It allows you to use a voice and text chat without the need to connect to a network.
It shows offline maps, intended to indicate where the person located is located. You can see the exact coordinates of the site where the person or people you want to locate is located.
It has an SOS button for help. When pressed for 3 seconds, it will trigger an SOS message to all the connected GoFindMe users within range and set a course for rescue.
The GPS included in the device serves to follow a path without problems, using the offline maps that it includes. It is ideal, therefore, to use when we run out of mobile coverage.
It allows recording on the device of the routes traveled.
It is used to monitor and synchronize the activity of up to 32 people automatically.
It supports the option of being used as a GPS tracker for cars.
And some more options.
If you turn on the Mesh Mode, it creates a dynamic communication network through other GoFindMedevices, scalable and as strong as the number of users in the area.
 It makes it not a burden in any adventure where the weight of the material matters.
Conclusion
GoFindMe is best for outdoor explorers who can always be located and in communication even without having mobile coverage or satellite assistance. You can also use it as a car GPS tracker for short-range tracking.